The Gin Craze and the Gin Ban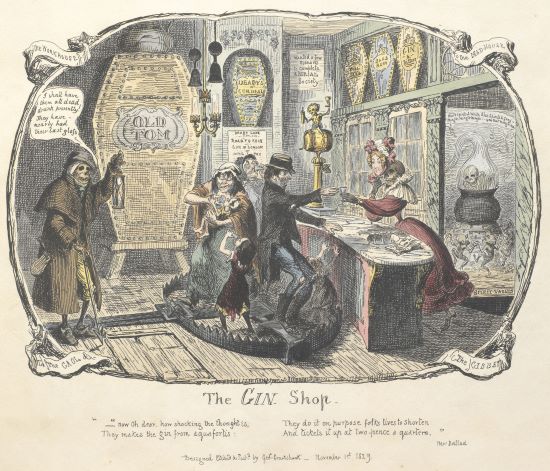 Today, we think of gin as nothing but a delicious alcoholic beverage, and drinking it is considered to be, at worst, a hipster pastime. But this wasn't always the case. In the early 1700s, during a period of time called the "Gin Craze" an estimated 7000 gin shops were active in London, peddling over ten million gallons of gin each year - of course, a favourite being the aptly named London Dry gin. It was the drink of choice at the time, being much cheaper than beer (if only that had carried on), incredibly ubiquitous and, in fact, the drink of choice for many Londoners. It's capable of relieving hunger pains, staving off the cold and, of course, getting you drunk - all things that were very much on the mind of the average working class citizen. But it was also blamed for many of the capital's problems.
Over the first half of the 18th century, politicians and religious leaders alike campaigned for gin to be restricted - they argued that it was largely responsible for the wave of laziness and crime that had struck London in recent years. Whether or not that was the case, I don't know, but in 1729 a Gin Act was passed which increased retail tax to five shillings per gallon. Quite expensive. But they weren't done with just that, as in 1736 that tax was quadrupled to 20 shillings per gallon and a license fee was imposed on gin retailers - this lead to riots in London in 1743. Within a few years both the tax and the fee were lowered because of the public backlash.
Of course, all that paled in comparison to the Sale of Spirits Act 1750, or more commonly known as the Gin Act 1751. It prohibited distilleries from selling to unlicensed merchants, restricted the number of people who could hold licenses and, of those license holders, charged an exhorbitant fee. Simultaneously, the import of tea and the consumption of beer was encouraged in order to provide an alternative beverage for those who relied on gin. This law wasn't even amended until 1862 - it held for over a century.
Things are quite different today - back then it was practically prohibited to buy gin, and today you can buy gin online from the comfort of your own home. But that's progress!
Copyright © Rights reserved.